Fully automatic baking machine
  HM-40TH3FPA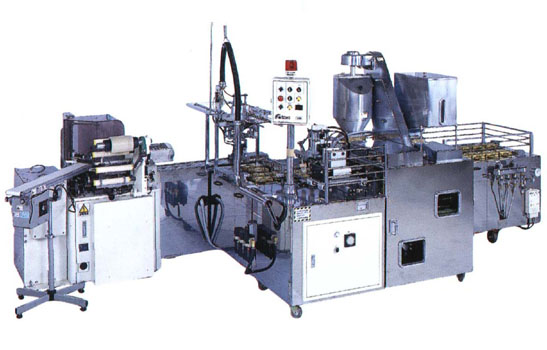 ■Feature
This machine is a mass production type upgrade the baking die sending device to obtain the production capacity of 1800 pieces per hour which is 1.5 times to the H-1200 series and quieter baking die moving is improved.
The baking die and the depositor are one-touch detaching types, and many kinds of filling feedings can be done.
It is suitable for the item that needs more baking time especially.
It is possible to arrange reasonably into the to the factory because of less dead space.
Moreover, the dough tank where the dough level could be seen from outside is installed standard.
■Specification
Main production items

item with beam paste , bean grains , custard cream

Production capacity

1,800 items per hour

Baking speed

Changing the speed continuously by the inverter

Heat source

Propane gas or city gas

Amount of gas use

36,000Kcal/h

Amount of electric use

Main body  900W  packaging machine  900W (added with 720W branding iron)

Outlet  4P 20A 200V

Compressor 1,500W  Outlet  4P 20A 200V

Installed area

6,100㎜ in width×1,850㎜ in depth× 1,890㎜ in height

Size of baking die

Material of baking die

Brass
■Process
| | | | | | | | | |
| --- | --- | --- | --- | --- | --- | --- | --- | --- |
| | | | | | | | | |
| Oil wiping | | Dough feeding | | bean paste filling | | Baking completion , taking out | | packaging |