Fully automatic baking machine
  HM-34TH2FPA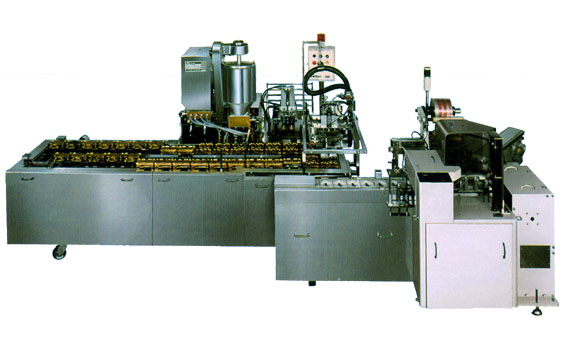 ■Feature
The HM-34TH2FP modelis a consistent system, that we are proud of docked by the wrapping machine.
The item baked by about 160 degrees is sent directly into the packaging machine by a newly developed robot and then wrapped quickly by corner boxing or three-way packaging while it is still hot. These extend the best-before date further.
The baking die and baking process adopt the most reasonable none-can structure for the dough to be able to bake the best sponge pancake with light and melting texture.
Moreover, the one-touch detaching specification, which means just putting the baking die on the line and letting go can shorten the most annoying process of die exchanging and die washing.
The depositor can also do the replacements of bean paste and cream, etc. by the one-touch detaching system in a few minutes.
The electric branding iron can be installed as an option.
■Specification
Main production items

item with beam paste , bean grains , custard cream

Production capacity

600~1,200 items per hour

Baking speed

3~6 minutes  Changing the speed continuously by the inverter

Heat source

Propane gas or city gas

Amount of gas use

19,200Kcal/h

Amount of electric use

Three aspects 200V 1.4Kw (Main body  0.5Kw  packaging machine  0.9Kw)

Outlet  4P 20A 200V(straight)

Installed area

4,080㎜ in width×1,760㎜ in depth× 1,670㎜ in height

Size of baking die

150㎜×200㎜

Material of baking die

Brass
■Process
| | | | | | | | | |
| --- | --- | --- | --- | --- | --- | --- | --- | --- |
| | | | | | | | | |
| Oil wiping | | Dough feeding | | bean paste filling | | Baking completion , taking out | | packaging |