Fully automatic thin rice cracker baking machine
  DK-614W4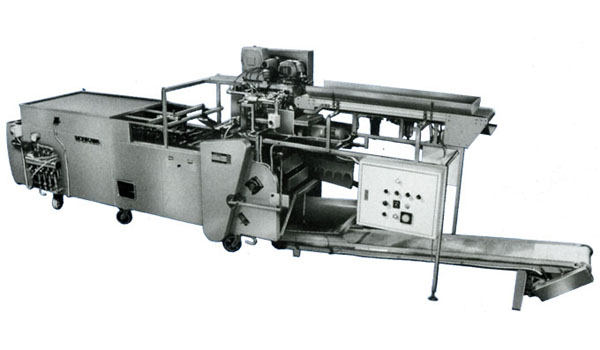 ■Feature
It is a machine that bakes the thin rice cracker which can be easily eaten.
Production capacity is also very high, and steady production of rice cracker could be done without irregularity.
Various rice crackers can be baked by exchanging baking dies.
■Specification
Main production items

thin rice cracker

Production capacity

2,100~4,100 pieces per hour (1 baking die produces 4 pieces)

Baking speed

3.5~7 seconds continous speed change /1 baking die

Heat source

Propane gas or city gas

Amount of gas use

108,000Kcal/h

Amount of electric use

Three aspects  200V Main body :750W

dough feeder :200W, conveyer :100W

Compressor:750W

Installed area

Main body:3,500㎜ in width×1,500㎜ in depth× 1,800㎜ in height

Total space : 5,500㎜ in width×1,500㎜ in depth× 1,800㎜ in height

Size of baking die

98×340㎜ 60 sets

Material of baking die

iron , aluminum , Brass etc,.